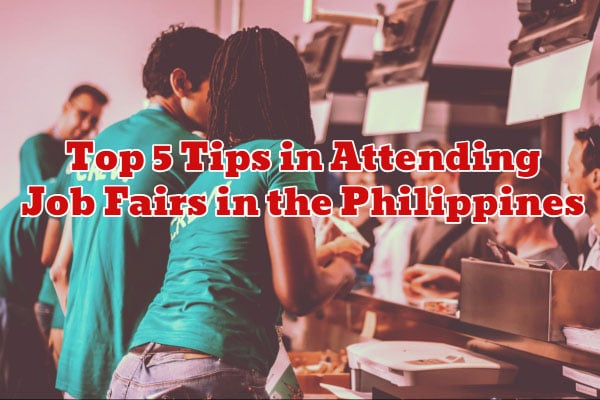 Looking for a job as it is can be a little competitive, especially if the company you want to work in is known internationally. But attending job fairs in the Phillipines could even double the competition and could be more intimidating for you.
Nonetheless, it shouldn't be an excuse to not attend the number of job fairs lined up this year. Instead of being scared, you have to be prepared. Preparation is the key to a successful job fair experience. If you keep in mind the following tips, you could even go home the very same day with a schedule for the job offer!
1. Dress appropriately but comfortably – dress smart, but don't forget to wear comfortable shoes. Stilletos will just make your feet, and eventually you, miserable.
2. Prepare the essentials – always be ready with your resume, some sample works, or an entire portfolio depending on the position you're applying for. Also, don't go without a pen and a little notebook for taking down contact details of companies you wish to look up on later.
3. Plan a schedule – don't just go there and submit a resume on both nearest the entrance. Look around first and take note of the companies you wish to send your resumes to later on so you could have a few minutes to prepare for a possible interview. It will also help you manage your time better, especially if the job fair is only a one-day event.
4. If there are a lot of people, mingle – attending job fairs in the Philippine is not so you could show everyone else that you're better and that you're going to get the job on the spot. Even if it's true, stop thinking for a moment that everyone else in the job fair might be after the position you're looking for and that all of them are strong competition.
(SEE ALSO: Job Fair Etiquette: Essential Reminders When Attending Job Fairs in the Philippines)
Going to job fairs is also a great way to learn and gain a great experience, and there might even be some people there who could give you additional tips on how to go about the entire event.
5. Ask questions – if you had been fortunate enough to have an interview on the spot, don't hesitate to ask about the next step in the recruitment process and how long until you will be contacted again. Ask also for the name and contact detail of the interviewer or the person in charge of the on-site recruitment so you could follow-up your application yourself.
Attending job fairs really could be a little intimidating, but it's also a great experience and you learn a lot from it. Of course, it could also be your ticket to a successful career.
Job fairs in the Philippines are a great help to people who are job hunting, whether for the first time, or because of a career change. If you want to find out the schedule of job fairs, check out our blog for more info.