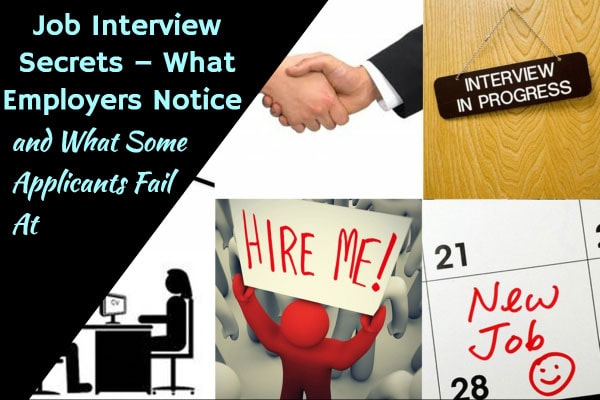 Important Job Interview Extras Revealed!
Are you one of those people who are wondering what they did wrong in their job interview?
For some reason, some applicants, who have well-written resumes and a fluent diction, still fail during their job interviews. Unfortunately, they keep on forgetting that apart from the interview, there are things that employers put into consideration.
There are certain things that interviewers always notice which are the things applicants tend to forget because they are too tense. The funny thing is that these things are actually small issues. So, apart from researching what the company does or answers to hard job interview questions, you should remember these:
Appearance Upon your entry to the room, interviewers will look at you from head to foot (even though you don't notice). Of course, the first thing they will notice is your face. Take the time to have your hair fixed. Strands that fall unto your face may be a very big distraction.
The next thing they'll notice are your feet. Many applicants fail from this point on because there is a misconception that since the feet are down there, they don't need to put on decent shoes. Always remember that employers look at this.
(SEE ALSO: Tips to Ace Your Job Interview – Small Details that Make Big Differences)
Next, are the nails. There are some applicants, who forget to remove their nail polish upon a job interview. The bad part about this is that, even male applicants are caught wearing this.
Clothing is yet another issue. If you go to your interview wearing something casual such as jeans or shirts, you might as well leave. The corporate world takes into great consideration the appearance of a person. Because if they hire you and send you to do field work, you have to look good because you carry the image of the company.
Actions Apart from listening, recruitment officers continue to look at you. It is for a fact that this is the time that they notice the most things about you your actions for example. It cannot be avoided that because of the nervousness that applicants feel, they tend to do a lot of involuntary actions. This can cause a great distraction, which may lure the interviewers' attention from your answer to your body language.
This also goes the same for hand gestures. Some people find it easier to explain when they do a bit of actions with their hands. But not too much for these can also cause distractions.
Eye contact is also a factor to be pointed out. Employers notice this and use this to determine if their applicants are sincere and confident.
Way of Speaking Let's be honest. Although some interviewees have writing skills, not many have the knack for speaking. It's either they stutter or say 'umm'. These can really be a bother for interviewers.
At the same time, the speed and volume the person uses while speaking is also listened to. Talking too quick or too slow; too loud or too soft may cause an interviewer to miss what you're saying. So, it's best to relax and be careful.