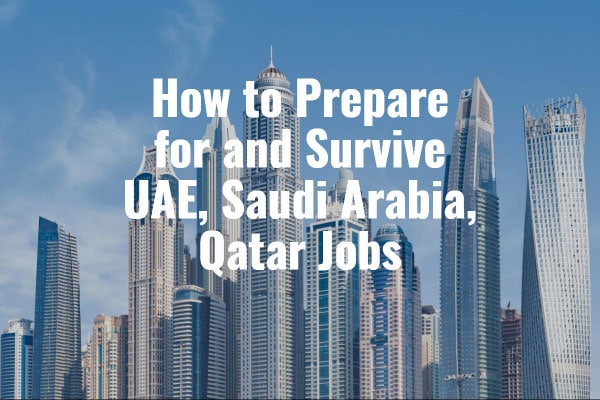 Applying for a Job in Qatar? UAE? Saudi Arabia? Here are Some Tips That Can Help You!
If you look through today's job vacancies overseas, you'll see that there are tons of openings in the Middle East or West Asia, especially Qatar jobs. The best part about this is that, the businesses there are not looking for people with a specific profession. The opportunities there are diverse.
Jobs there include work in construction, in hotel and restaurant management, in offices and many others. Unfortunately, it's not that easy getting work there. Not only because getting the VISA is tedious but because of the fact that going there means you're going to leave home and be an OFW.
For sure, it will be hard if you don't prepare. Remember, anything can happen and if you don't condition yourself for these possible scenarios, you might face a lot of nasty consequences (and we're not talking about depression). For your reference, here are some things you can do in order to get ready for these overseas job opportunities.
The first thing you need to do is obtain knowledge on the matter. Gather the important details like what jobs are available or what requirements are needed. You need to know what kind of job you want. Make sure that you contact the Philippines Overseas Employment Administration (POEA) to get the exact details. You also need to get the 411 on the VISA you need to get. Although these countries are from the same region, it doesn't mean that they have the same rules. Take the initiative to read.
Now that you have a background on this, you should decide if you're going to apply for a job before or after flying to the country. If you choose to find a job overseas while you're here in the country, just be careful in choosing an employer. Sure, there are tons of recruiters but that doesn't mean that they're all legal.
If you do research, there are a huge percentage of people who get scammed by fraud recruiters. Make sure that these people or businesses have the proper license. If you find these hiring managers suspicious, you can always get in touch with the overseas employment agency.
If you choose to find work when you get to the country, you'll find that it will be a bit more challenging. Unless, you already have a contact, you'll have to start from scratch. However, it's not entirely impossible. If you have an internet connection, you can do research on openings through job search sites and many others. Because you're there, it'll be easier to set up a meeting with the employer.
What You Need to Do When You Finally Get That Job Overseas
Familiarize yourself with the rules of the country. You can read or even ask the authorities. As mentioned before, it doesn't mean that if these countries are in the same region, they already have a common law. Make sure you know this. Getting an overseas job in Qatar, UAE, Oman or any other country involves a lot of legalities. If you don't follow their rules, you might get deported and it will reflect on your permanent record. Don't let that happen.
Now that you have all of these sorted, make sure that you have enough money. It may be true that you're earning but there are certain payments you have to do before you actually get your first salary. You need money for the VISA application, the plane ticket, your temporary home and many others. In addition to this, you'll need money to survive before the first paycheck. For sure, you'll need to purchase a few things here and there. So it's always safe to have enough money.
(SEE ALSO: Detecting Employment Scams)
When you work abroad, make sure you're all set. Aside from insurance, a home and those necessities, you need to prepare yourself emotionally. If this is your first time to be away from the Philippines, you'e sure to miss home. This is especially true if you have a family. So, ask yourself, will you be able to survive this? Why are you going abroad? What are your goals? Don't be idealistic. The money may be better than your previous pay but there are no guarantees that life would be easy there.
All in all, there are many requirements if you want to work abroad. No matter how hard it will or can be, put into heart and mind these things and you'll be fine.