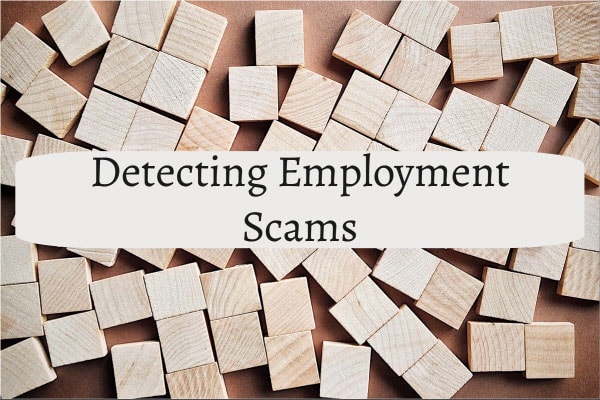 People are always looking for jobs. It could either be due to unemployment or a want for a better career. Job hunting will always be an ongoing activity.
Employment scams or commonly known as job scams have been prevalent lately. This usually involves a supposed employer offering an applicant an attractive opportunity which require money in advance.
This opportunity usually is in another country and that the money collected will be for visa application and travel expenses. Once the victim has completed payment, the employer disappears and is never heard of again.
The incidence of cases such as this has increased these last couple of years, mostly in the form of illegal recruiters. That is why people should be wary before pursuing any job offer. These warning signs and tips will definitely help you determine whether a job is a scam or not.
Research about the Company as well as the position offered
Do a background check of the company. You should be able to find information about them, compare if it is consistent with what the person you've met with said.
If you haven't heard of the company before, make sure that you have reliable people you know who do. Consider it as a warning sign if they don't have a website and if you cannot find them on the Internet. Legitimate companies do not have anything to hide.
Doubt emails
Job scams usually spread faster because of the Internet. Money-making scams especially thrive through spam. You should be wary of spam emails that offer you jobs without properly giving information about their company.
(SEE ALSO: How To Boost Your Chances of Getting That Dream Job You Want)
These industries would ask you for your personal bank account as part of "getting to know you". Be mindful of these kinds of hint. You should be able to know the difference between a legitimate job offer email and a spam.
Consult Scam Lists
Countless campaigns have been put up to stop scammers. On the Internet alone, you will be able to see lists of illegitimate companies and websites.
If they have a hotline, you can call and ask some question. You can relay the nature of your problem and ask them for advise. Make sure to check these sites out for reference.
Be wary
If an offer sounds "too good to be true", chances are it is. There is no shortcut to success and if the employer is offering you a ridiculously high salary for a starting position, don't dive right away. Sometimes scammers take on subtle ways of deception.
Read and re-read job offers carefully. Have someone you trust look through any document and listen to outside opinion before you sign anything. Lastly, always remember that the company will hire you, you don't have to pay them anything at all.