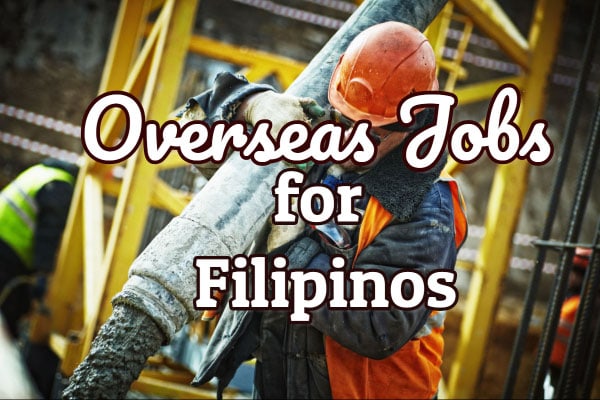 Every year there are hundreds of thousands of Filipinos who leave their homeland to work for overseas jobs.
Filipinos choose to be separated from their families and work abroad because there is very little opportunity to have work in the Philippines.
There may be a lot of job vacancies in the country but Filipinos choose to work abroad because the salary is much bigger.
The monthly salary of a college graduate in the Philippines employed in an office in Makati amounts to one day of salary of a person who works as a waiter or bell hopper in a hotel in the United States. No wonder even engineers and other professionals choose to do manual work abroad than to work in an office in the Philippines. Manual labor is highly priced in other countries.
(SEE ALSO: How to Prepare for and Survive UAE, Saudi Arabia, Qatar Jobs)
Construction workers here earn only P4,000 to P8,000 a month while Filipino construction workers in the Middle East earn P30,000 to P80,000. Welders here earn P7,000 to P15,000 while welder deployed to Australia or Canada earn a minimum of P100,000.
Housemaids in the Philippines earn P2,000 to P4,000 a month while housemaids in Hongkong earn as much as P30,000 a month.
There is also big differences in the salaries for professionals when they work in the Philippines and when they work overseas. Nurses who work in private hospitals in Manila earn a monthly salary of P7,000 to P15,000. Nurses in the US earn as much as P300,000 a month.
Teachers, engineers, managers and computer programmers who get out of the country to work earn hundreds of thousands of pesos compared to P8,000 to P40,000 when they stay in the Philippines.
The Philippine Overseas Employment Agency says that there are still millions of overseas jobs for workers and professionals abroad in the next 4 years despite the global financial crisis.
This may be good news for Filipinos who want to provide good life to their families back in the Philippines but if they can find work in the Philippines that will give them security, almost all of them will choose to stay in the Philippines with their families