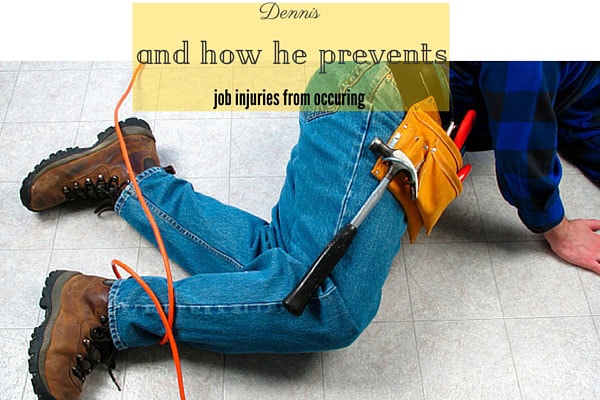 Dennis is your typical cargo worker. Buffed, macho, striking – are some of the words used to describe the heavy-lifting guy. So when asked by his manager to provide tips for the new batch of workers, he was sure happy to share his nugget of information.
(SEE ALSO: The Highschool Students' Top 5 Job Books)
After all, he wouldn't want any of the new guys to be injured at work. He knows first hand on why it's gruesome fate to be in – just last year, his buddy, Carlo, had to go on an indefinite leave because the load he's carrying fell on his feet. So he's making sure that none of the new recruits are going to meet the same disaster.
Right at the conference room, in neat and sharp suit, Dennis presented his top 3 observations. Make sure you guys have these things in mind, he said in a loud, dominating voice. Let's check out what he discussed to the newbies:
(SEE ALSO: Common Injuries in the Workplace)
If it's at Center, then you're doing it right
Dennis stressed the fact that one needs to have his center of gravity balanced. So how does one do this? Simple. He needs to carry the chosen object as close to his body, right at the center of his torso. Dennis explained that this will help lift objects in a much faster way – including that it'll be faster to pass the load onto someone else – and will help prevent the object from tipping over. He also stressed that if one can't lift a single object up, it's better to ask for help – just as long as both are lifting it by their chest area!
Because we're all like soldiers
Dennis created an analogy between soldiers and lifters. Soldiers made sure to stand and walk straight at all times. Dennis suggested that this is the best way to go. Keeping a straight back will allow workers a better line of vision when lifting objects. It'll also help since it'll prevent cramps and other back pain conditions from setting in. He did tell the workers that it'll take a lot of practice, but it'll be all worth it, that he promised.
Fit to Work
Dennis showed off his six-pack abs. The newcomers amazed, Dennis explained that having a fit body is needed to properly work in this field. Having a beer belly, or a protruding stomach, can actually work against a lifter. It would be another unnecessary load to carry. He did promise his workers that heavy lifting has its benefits – the six-pack was just one of them.
(SEE ALSO: Some Common Work Injuries)
With his presentation done, Dennis welcomed the new hires into the company. He hoped that they took his advice to heart. And he also wished that Carlo would be able to come back to work. If you are also into heavy lifting at work, you may want to consider Dennis' presentation as well. Have a fun time at work, and stand up tall and straight!