What People Should Know About Career and Job Fairs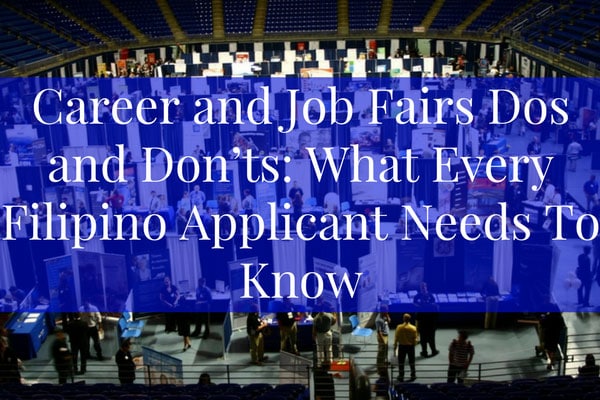 In a job fair, you are the salesman. The employers seated at their respective spots do offer job openings but they expect you, the applicant, to be the one doing the sales talk.
First of all, what is a Job Fair?
Basically, this is a place where employers gather to find potential manpower for their companies. Here, applicants can find out more about various companies and what jobs they can aim for. In a way, they get to meet and greet HR personnel from different firms and earn the opportunity to distribute their resumes.
It sounds easy, right? However, have you ever considered the fact that there could be hundreds of hopefuls like yourself that will be appearing alongside you? These people will not take "No" for an answer and neither should you. There's more to a job fair than just handing out resumes and getting fliers and freebies. As a matter of fact, in this place, you should be prepared to market yourself to the fullest of your abilities.
What People Should Do and Not Do In Career and Job Fairs
You have to stand out. You have to make a good lasting impression! But how can one do that? Here are some dos and don'ts when visiting a job fair.
Dos
Dress appropriately. In some situations, employers hold on the spot job interviews. You have to be prepared. Also, good hygiene and appearance can make you "unforgettable".
Interact with the employers. When you get the chance, you should ask questions about the employers and the job openings (not about compensation and benefits).
Read. When you're unsure, there are flyers, leaflets and other things you can use to learn more about the companies participating in the job fair.
Create different versions of your resume (depending on the position you're applying for).
Do some networking. This will provide you with options in the future. Additionally, make friends with fellow job seekers.
Don'ts
Do not waste time with companies which you don't see yourself working for. Maximize the time you have.
Don't just leave your resume on the employer's table without taking the opportunity to mingle with them. Network and learn more about their background.
Don't hesitate to go back. If the job fair is scheduled for three days, then go back. Now that you have details regarding what companies are there, you can edit your resume. You should also consider going back to booths you've been to if you have some questions.
Don't speak in "Taglish". Sound professional by speaking in English, especially if the company you're in front of is an international company.
Don't be impatient. Because of the numerous job applicants with you, there's a possibility that you might not get an answer re: your application any time soon. Unless you get a job with a good offer, wait.
(SEE ALSO: Top 5 Tips in Attending Job Fairs in the Philippines)