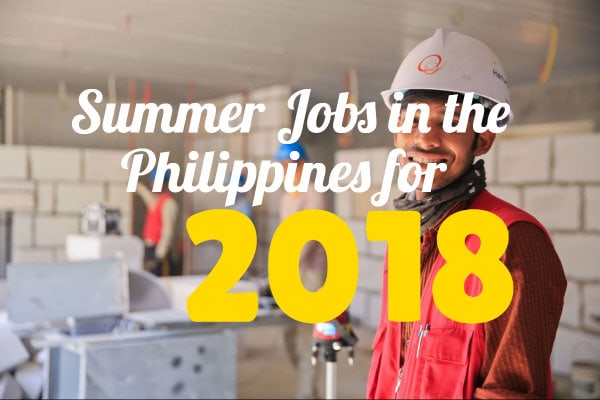 Don't Want To Be A Bum? Engage in a Summer Job this 2018 in the Philippines
Nowadays, it's no longer practical to just go to the beach during summer vacation. For students, they would rather take up a certain summer job and earn some money. Thankfully, the working industry's companies comply with their new found desires.
This summer 2018, instead of being a 'bum' at home while waiting for the next school year to start, why not engage in summer jobs? Not only will you earn cash but you'll also gain experience and new friends.
1. Tutorials One of the most basic summer jobs you can take is becoming a tutor. But not just any! There are small English schools which are looking for instructors, both in-class or online. If you have a knack for teaching, you can try your skills here.
2. Fast Food / Coffee Shops Every summer, fast food joints, as well as coffee shops look for part timers who wish to join their team during the vacation. Establishments such as McDonalds, Jollibee, KFC, Starbucks, The Coffee Bean and Tea Leaf, Seattle's Best and many others are open to college students or hopefuls who wish to earn some extra cash during their free time.
3. BPOs/Call Centers If you think that call centers are only limited to graduates and experienced individuals then think again. Even these BPOs have openings for part time. Companies such as Convergy's and Accenture are looking for people to hire.
(SEE ALSO: Philippines Jobs: How to Get a Trabaho)
4. Government Agencies – Just in case you're interested, some government agencies look for interns as encoders and assistants. You're not really required to do any heavy stuff but for sure, you'll be able to gain special training and also, a salary.
5. On The Job Training – Just in case you want something different, you can browse employment sites on the internet to find part time openings to different companies.
Instead of just going for BPOs or restaurants, you can find other firms such as Automobile Dealers (such as Isuzu Automotive Dealership Inc.), Banks (such as Metrobank, Unionbank), telecommunications corporations such as (Smart Communications, etc.). Although you can get the experience you're aiming for, there are no assurances that these OJTs have salaries.
When you're unsure of what to engage in, you can always find seminars and symposiums you can participate in. Although these may require you to pay a certain price, you'll truly be enlightened about the field you wish to participate in. This might not be a summer job but this will give you the opportunity to build up your network.