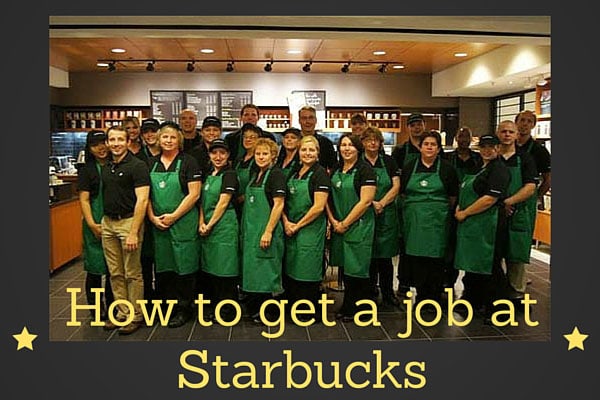 Need Starbucks job applications? Looking to make a career with the most successful coffee chain in America (and probably the entire world)? Then you've come to the right place, as this website is where we get you ready for a future with Starbucks. Yes, Starbucks, where the coffee is always awesome, the food is perfect and the baristas are more than happy to take your order. So read on to find out more about how to get a job in Starbucks.
Well, first off, you need to check out which career path in Starbucks you want. Are you aiming for something hourly and casual, like a barista that you see in your favorite Starbucks branch? Or do you want something a bit more intense and involving, a bit more behind-the-scenes, such as being a Store Manager or even a Facility Manager? There are more than a thousand possibilities in Starbucks, not just being the smiling barista that serves everyone their coffee. Pick wisely and pick carefully – it could dictate your future in Starbucks from here on out.
(SEE ALSO: How to get a job at McDonald's)
After picking which position you want you need to apply. You can either apply in person or you can fill out the online Starbucks job application in this site. After submitting your application you should expect to hear back from someone within a week and if they like what they see from your resume, it's off to the interview. Do well in this interview – be sure to answer all the questions honestly and clearly – and you're on your way to wearing that famous symbol on your uniform. Just remember to make sure that from now on, everything you do reflects on the Starbucks name – make us proud!
What are the Positions Available at Starbucks?
Admin and Support Services
Business Development
Call Center
Communications
Design
Engineering
Executive
Facilities Development and Management
Finance
Green Coffee and Tea Management
Human Resources
Information Technology
Legal
Marketing
Operations
Procurement
Project Management
Quality
Research and Development
Sales
Social Responsibility
Supply Chain
Why Should I Apply For A Career With Starbucks?
There are plenty of reasons to apply for a position in Starbucks. First, there's the Starbucks Total Pay Package that is pretty much a benefit plan catered to your exact needs and wants, and is unique for every partner. This benefit plan, depending on what position you have and your personal situation, is as follows:
Progressive Compensation Package
Healthcare Benefits (Medical, Prescription Drugs, Dental, Vision)
Retirement Savings Plan
Stock Options and Discounted Stock Purchase Plan
Income Protection Plan (Life and Disability Coverage)
Management Bonus Plan
Adoption Assistance Plan
Domestic Partner Benefits
Referral Programs and Support Resources for Child and Eldercare
Discounted Starbucks Merchandise
And yes, you do get a pound of coffee each week. And that's awesome.
So if you're looking for a job that's a bit more involving than your usual job, apply here and be a part of our team. We're always glad to have a go-getter on board!
If you want to directly apply to their website and submit your resume visit this career page or check their official job listing page on Jobstreet.