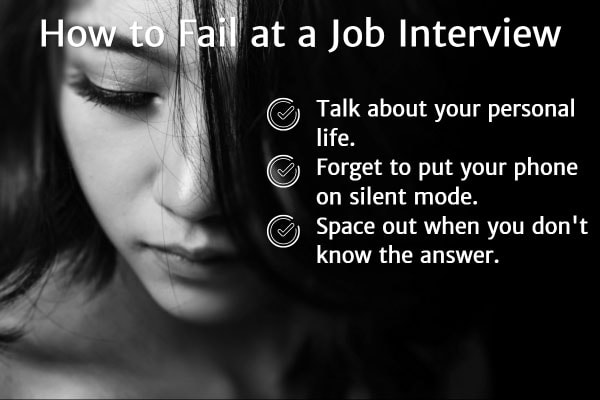 Talk about your personal life.
Speak in Tagalog/Taglish while the interviewer is speaking in English.
Have a wrong choice of words.
Dress like you're going to a mall.
Forget to put your phone on silent mode.
Neglect to have eye contact with the interviewer.
Eat gum while doing the interview.
Be beyond 5 minutes late.
Arrive an hour before the interview.
Be unable to confirm that you are coming to the interview but still appear.
Fold your resume.
Leave your resume at home.
Write unnecesary things in your resume and not be able to answer for them (i.e skills you say can do but can't)
Space out when you don't know the answer.
Omit to research about possible job interview questions and about the company.
Don't be polite.
Say bad things about your previous employer.
Forget to brush your teeth and take a bath.
Bring your parents and have them talk to the receptionist or contact person.
Demand a big salary, especially if you're a fresh graduate.
(SEE ALSO: Job Interview Secrets – What Employers Notice and What Some Applicants Fail At)