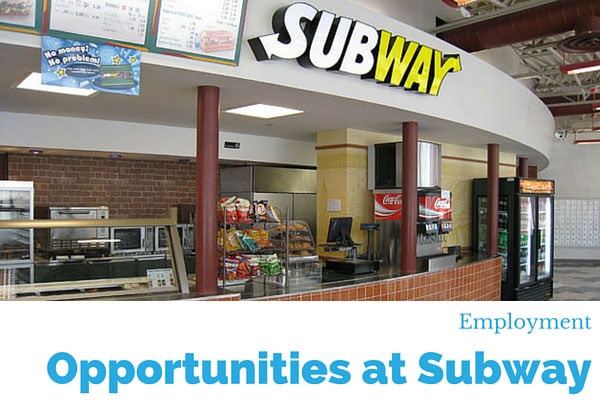 Subway offers different jobs that includes in-store and corporate positions.
Corporate Positions
Territory Manager
Unit Manager
Assistant Manager
Shift Manager
(SEE ALSO: How to get hired for a job at Taco Bell)
In-store Positions
Sandwich Artist
Cashier
Food Servers
Beverages Attendant
Food Attendant
Applying for the Job
The best way to apply for the job is to visit the Subway location you are interested in working at and asking for a job application in person. It shows that you are serious about the job and also helps management by allowing them to get a first look at the potential employee. The easiest way to apply of course is online. Simply fill out the online Subway job application and send in your resume. You will also need to put the number of hours they want to work.
All completed applications are received electronically at Subway Restaurant's corporate headquarters in Milford, Connecticut, where they are shortlisted in the areas indicated by the applicant. Owners will contact the suitable applicant for an interview.
About the Company
Subway restaurants take pride in their accomplishments having 28,000 stores in 86 nations and continue growing since it started in 1965 with 17-year-old Fred Deluca and Peter Buck.
In its 43rd year of operation, Subway's prominence is breaking barriers with its operating units more than the existing stores of McDonald's in the US, Canada and Australia. The food chain already received countless recognition over the years. SUBWAY brand has also been popularized in TV commercials, print advertisements and other movie production.
Subway stores are visible in public places like airports, gas stations, convenience stores, malls, hospitals and schools. What's amazing about their chains is that almost everywhere they are present. Parks, resorts and a number of gigs, local events and fashion shows are very close to Subway that people will always find a way to eat at the store.
Subway is also part of most advertising and sponsorship of television shows and most sporting events like NASCAR, NFL, Australian Surfing and the American Heart Walk.
The food chain has won the hearts of its customers with its philosophy of giving back to the community the prestige that it gets by joining school programs and charitable activities. It both offers quality food delivery and actively participating to have a good service to the community. Subway endeavors to teach the public about proper nutrition and exercise. With Subway's proactive programs, it seeks to the address timely issues of childhood obesity, and sponsoring the American Heart Walk. The chain of restaurants is committed to promote living a longer healthy life.