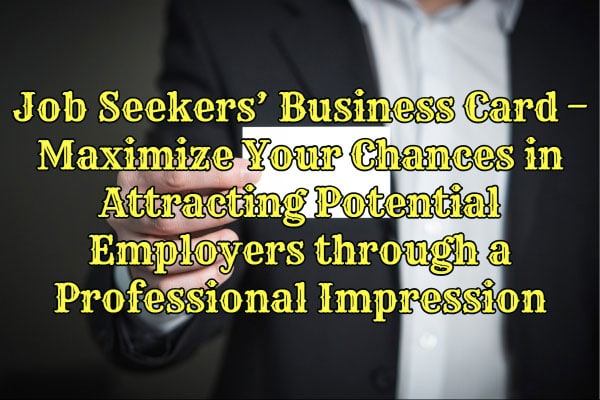 Having a business card is an indispensable tool in looking for a job. These days, potential employers can identify the competence, skills, and taste of a job seeker just by taking a look at his or her business card.
This is most true especially if you are a previously employed professional seeking a new niche in another company, you would get to attend various job fairs where you'll get to meet potential employers, and more often than not there will be several key supervisors or managers around, you can give them your business card and if you've established good rapport you'll be scheduled for a succeeding interview.
There are also times in your job hunt that you will be referred by your friend and will require you to drop by a company's office, you will meet your potential employer and eventually give out your business card as well. Make sure you have the "right stuff" in your business card!
Always put your right foot forward, and with business cards it's no exception. Your aim is to leave a professional impression to your potential employer, make your card subtle yet effective.
When the employer has your card, it'll take just a few seconds to come up with a conclusion of your image, skills substance, and the depth of your experience. Make sure that you have invested in your business card, having a quality designed card is also plus points.
(SEE ALSO: Overseas Jobs for Filipinos)
This is also considered as a "mini-resume" which can project how much of a promising candidate you are, having basic contact information in front then several credentials and professional abilities will make for an excellent way to communicate how much of a as a viable employee for them.
So have the drive to make a professional impression through your business card in your job hunt, you'll reap the rewards of having potential employers get in touch with you in no time!