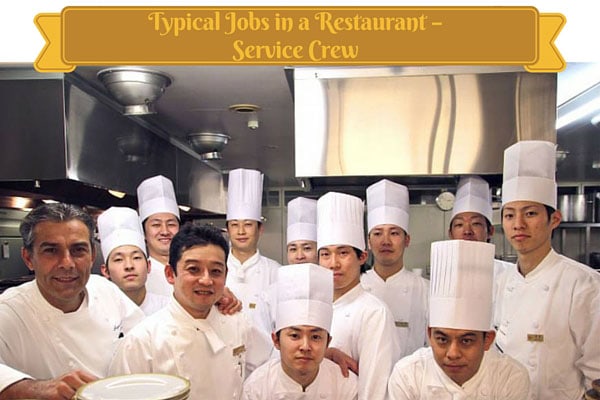 If you are looking for a really fun and exciting part-time job, then you might want to try applying as a service crew in a restaurant or fastfood chain. Being a member of a food service crew can sometimes be nerve-racking and demanding but you should know that they are an important factor in the overall success of a restaurant business. Service crews are the ones who ensure that all the people who eat at their place get to have a wonderful and memorable dining experience. To give you an idea as to the possible service crew positions that you may take should you decide to become one, here are some of the most typical ones.
(SEE ALSO: Common job sectors in Canada that Filipinos can apply for)
You could be assigned as a service crew who would basically work inside the kitchen to assist in various kitchen processes which most commonly involve preparing and cooking food.
There are also service crew members who ensure that the dish served in the customers' plates are properly handled and the that the taste is up to par to the restaurant's name.
In some restaurants where drinks are served, there are also bartenders who take customers' drinks as well as prepare the mixed drinks that they order. Bartenders are also the one who see to it that a customer's age is appropriate for the drink that he's requesting for.
The most common job as a service crew would be waiters and waitresses who serve in the dining area– taking and delivering the orders of the people who dine in the restaurant.
There are also food service crew who are tasked to serve as receptionists by welcoming guests and providing seats for them.
You might also choose to be assigned as a cashier who has the responsibility of the payments as well as the reservations made by the customers.
There are also service crew members who are assigned to clean and set the tables, wash the dishes and put the leftovers in the trash bin.
If a particular restaurant business offers delivery services, a service crew may also be asked to do that, ensuring that the food are handled carefully and delivered right on time.
There are a lot of possible jobs that you could choose to take should you decide to be a food service crew member. Being part of a food service crew is quite difficult yet very fulfilling at the same time. So if you think you have the commitment and dedication towards customers' satisfaction, then choose to apply as a food service crew member now.