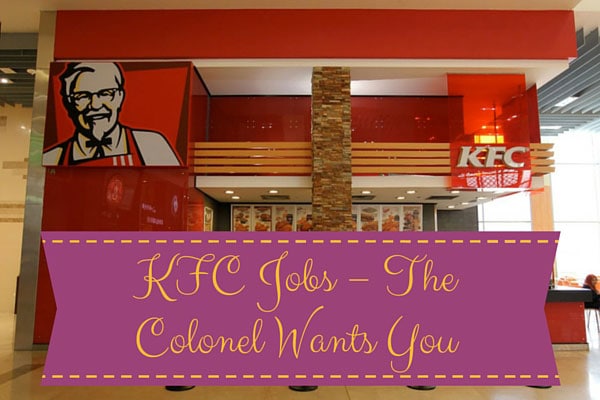 Who in the world doesn't know Kentucky Fried Chicken (KFC)? Unless you've been living under a rock, KFC provides one of the best, fastood fried chicken available in the market today. A KFC fried chicken is known for its very distinct, flavorful taste, thanks to its founder, the great Colonel Harland Sanders and his secret recipe.
KFC's secret recipe of 11 herbs and spices is a very close-guarded business component, that portions of the recipe are made at different locations in America. The original recipe copy, penned by the Colonel himself, is kept at an undisclosed location in within the KFC headquarters.
Now, with the impact KFC – and mainly, its secret recipe on creating a really good fried chicken – made in the fastfood arena, wouldn't you want to be part of this growing epic of a franchise? Lucky for you, the Colonel wants you.
(SEE ALSO: Quick Steps on submitting your Old Navy Job Application)
By simply checking KFC's main website, you can find openings best suited for your qualifications. Otherwise, a simple search online can yield multiple links leading to other KFC jobs. Openings vary, depending on location and KFC branch needs. But rest assured, there's always something for everyone willing to join the Colonel's fried chicken army.
Here are some job positions available in KFC, to give you a taste of what you can expect in working for the Colonel:
Team Member
A vital part of the KFC fastfood industry, team members are the company's frontline. Being the main face of KFC, the bridge between the customer and the fried chicken spiced up by the Colonel's secret recipe, this job can not only be challenging – but fun and rewarding as well. Excellent customer service and a passion for learning are vital requirements needed for this position.
Shift Supervisor
A step up from being in the frontline, the shift supervisor has an equally vital role to play. A team's performance and productivity depends on how well a shift supervisor manages them. It'll sure make the Colonel proud for people applying in this position on having the patience, perseverance and the drive to lead and succeed.
District Manager
Want to feel how the Colonel does his magic? A district manager not only manages and develops shift supervisors and other KFC leaders, they also develop new and greater KFC branches as well. Taking the big responsibility on upholding the impressive reputation KFC has delivered to its customers through the years, people seeking this job would need to have equally impressive credentials as well.

The Colonel wants only the best – but he also gives the best. Working at KFC offers great career growth and advancement, rewarding and honing the skills of deserving employees. So if you'd like a career you'd actually enjoy working at – not to mention having a real close up taste of the KFC secret recipe – apply now at KFC.