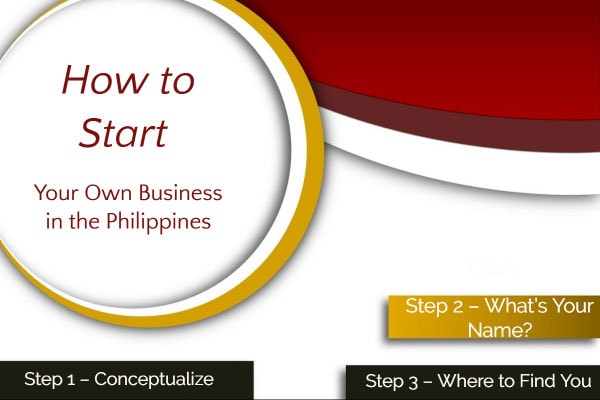 Having a steady source of income is good but having a sideline or an extra way to get money is even better. If you believe that you have the talent to become a good entrepreneur a small businessperson or a huge tycoon of something you shouldn't waste your talents. Learn the right way to start your own business.
Although it's your own little project, there are always steps to doing it right. Other people have their own ways to doing this but if you're clueless on how to start your own business, don't experiment. Chances are, if you do this the wrong way, you'll be wasting time, energy and capital.
Step 1 – Conceptualize
Before anything else, you shouldn't think about the government requirements or the location of the business. You should first think about what business you'll venture in. What will be the product or service you're promoting? Nowadays, it's hard to start a business without thinking of what the public wants and how it can help them. Many newbie businesses have failed because of improper planning.
If what you want to venture into is something that doesn't sell that much, don't be discouraged. Before rejecting the idea, think of ways on how it can help the people. In relation to this, know your target audience and their age, their location and even their living conditions, as well as possible scenarios where they can employ your services. Figure out the problems you want to solve; what your product or service can do for them.
When you have decided what your business will be, you should expand your one goal. Determine your mission, vision and goals. Make sure that you have enough capital. It's inevitable to spend for a new business so be prepared for anything.
Once you're done with the conceptualizing, you can go on to the next step.
Step 2 – What's Your Name?
The name is very important in a business. It's your identity and will help you attract customers. It has to be catchy but still professional sounding. If your business caters to the masses, then you should add in some creativity to produce a hip and cool name. If this will focus on the corporate world, make sure the name sounds formal. Whatever nature of business you'll produce, you should make sure that you make an attractive logo.
Remember, the name and logo should already hook people. Later on, to give it a boost, you should get a creative team (or not) to think of creative taglines for your business. Also, tackle how you can promote your products and services to the public.
Step 3 – Where to Find You
Location is very important, especially if you're starting a service oriented business; restaurants, mini-marts, etc. It's better if you choose a place where there are a lot of people. The probability of customers discovering your business will be higher. If you have constructed a good name, you're sure to spark their interest.
(SEE ALSO: Tips to Handle Philippine Economic Crisis)
As early as the conceptualizing period, you should already be scouting for good locations. It's one of the hardest to find. In addition to this, your new base of operations should look decent. It reflects you and your business.
Step 4 – Registration
Now that you've established what your business is about, what its goals and objectives are and so on, you're now ready to register and get all the necessary permits and licenses. You will have to shell out some money when you do this. You may have to travel from one place to another so you'll have to find an effective means of transportation. It can also be tedious since you'll be standing in line. For sure, there are a lot of entrepreneur hopefuls, waiting to start their business.
Do some research on how to go about this so you won't find yourself jumping from one government agency to another. It might take some time to process all of this but once these are all done, you'll all set to go!
Step 4 – Other Essential Things to Remember
Now that you've get the heads up from the head honchos, find potential clients, partners and partners. This will help you in the future for sponsorships and even for promotions. Hire a good staff. Don't settle for second rate people just because they're willing to learn. Make sure they're capable. You wouldn't want your new business to fail just because of irresponsible employees, would you?
How do you promote something that people haven't heard of before? As a continuation of the previous step, marketing and promoting your product is important. It's how you'll be known. Just in case you chose to start a business that has a lot of competitors, do research. Learn what your edge is. Don't only rely on one marketing strategy. Remember, Filipinos have different needs and preferences. One method might not be enough to sell.
Basically, that's what you need to do when you start your own business. Whether or not you do these step by step, these are the necessary actions you have to do in order to garner success for your new business.