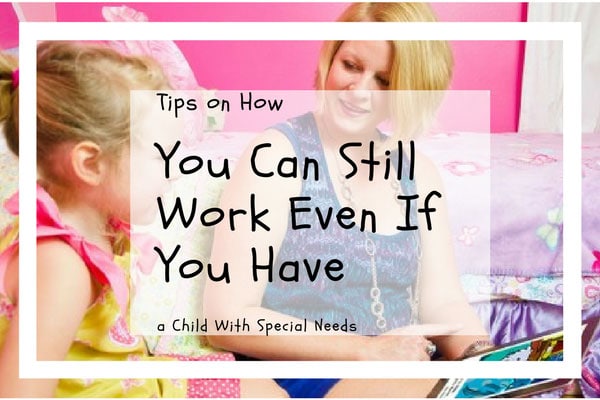 Having a child with special needs can be really difficult especially if you have to go to work. Most families go bankrupt because parents would have to sacrifice their jobs just to take care of their child. But this should not be the case especially if you have a lot of possible options that could actually work for you. So here are some tips as to what you can do for you to be able to work even if you have a child with special needs.
Work less especially if you can. Keep in mind that you don't have to actually resign from your job just to be able to take care of your child. You could try to arrange your work schedule so that you can be with your child more often. For instance, you could choose to work only in the morning, so you can spend time with your kid for the rest of the day.
Ask help from family or friends. If you have family or friends that have no work, you can try to ask them to watch over your child while he or she is asleep. This can be a good option because you know these people personally and you can be assured that they will take good care of your child while you are away. Aside from that, having them look after you child at home can make you accomplish your errands faster and easier as compared to bringing your child with you when you work.
(SEE ALSO: Setting Career Goals for the New Year)
Find a nanny, sitter or neighbor. You could also try to find a nanny or a sitter to look after your child. Always remember to look for someone who is willing to undergo training before looking after your child. You should also try to interview possible nannies and sitter together with your child for you to be able to early establish their comfort level and skill when it comes to handling your kid.
Visit a prescribed pediatric extended care center. Give a visit to a pediatric extended care center near you and check if letting your child stay there while you work is best for your kid. There are nurses and some therapists in these care centers who could actually assist you in taking care of your child although you must keep in mind that this might not applicable for children whose needs are behavioural.
Advertise at a local college or graduate school. Lastly, you could try to look for students studying psychology, nursing or the likes who are looking for some real life experiences and at the same time help them earn money by posing advertisement at your local college or graduate school.
Never feel that having a child with special needs is burdensome. Always remember that there are a lot of ways that you can do to help you in taking care of your child. You must realize that your work is important for you to be able to provide your kid with all the necessary things that he might need, something you won't be able to do if you have no job.