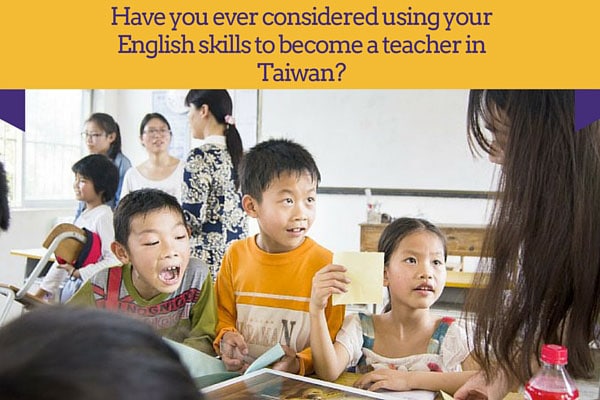 You should definitely try teaching the language. In fact, this type of work has become of the most in demand jobs around the world, especially in Asia. Being young and new industrialized, some countries in South East Asia, especially Taiwan, are in need of English instructors. If you're interested, you might want to read more on how to teach English in Taiwan.
Taiwan is relatively a young Asian country. Nonetheless, it has achieved modernization and progress in such a short period of time. Thanks to their determination and hard work. However, there are still a number of citizens who have not yet mastered the English language.
(SEE ALSO: Getting a career to teach English in Korea)
If you study, this is the most spoken language in the world. Thanks to this, many countries have been able to communicate, thus have been able to engage in trade and commerce with one another. This is one of the things newly industrialized countries need in order to build stronger ties with other countries, both inside and outside Asia.
Your English ability can actually make a difference. Being a teacher is a noble job but it is more honorable if you are able to build bridges. With your effort, you'll be able to help an individual reach personal growth and a country reach out to others. By choosing a career where you can teach English in Taiwan, you'll be able to contribute a lot of things not only to the country but also to yourself.
If you think that teaching is a low paying job, think again. With the rise in demand of teachers, you're sure to create a stable career. Also, you'll get the chance to travel and see the beauty of Asia. So, if you're looking for a job in teaching, why not aim high? Teach English in Taiwan and you can change lives and receive professional development too!
Other Posts About Teaching Job You Might Like: