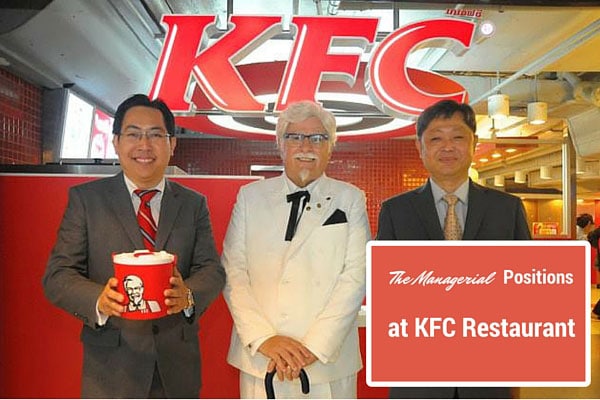 KFC Restaurant is one of the quickest and efficient options to get a meal. Aside from that opportunity to have something good to eat on the go, life-changing management career options are provided with excellence. For those who are into starting up a business, or those who would like to be part of a restaurant management team, KFC is one of the greatest options.
(SEE ALSO: Printable McDonald's Job Application Form)
Let us take a look at the management career services being offered by the restaurant.
• They are hiring full-time managers with generous benefits and salaries.
• The training programme is excellent driving an employee to get a fast career progression.
• The staffs are automatically eligible for a discount scheme.
• Unlike any other companies, KFC offers a balanced work and life opportunities for the managers.
• Rewards are in-store for excellent business operations and performance.
• And of course, efforts for an exceptional customer service will be recognized.
Along with your restaurant business start-up, KFC will be providing helpful training methods to achieve operational excellence in terms of training your staff and meeting your target for profits and sales. The business standard of KFC Restaurant is remarkably high. Therefore, standing out in the competition is never impossible with the support of the entire team.
What are the Goals and Missions of a Restaurant Manager?
The restaurant manager is the most important person in the business. He is the driver of the restaurant while taking the entirety into the road of success. He must be creative and efficient. The manager must be the one to shape the best atmosphere and ambiance of the restaurant in order to gain loyal customers. He is responsible of hiring the best staff that would help him meet the goals of the business under the high levels of customer service and financial progress.
Like what other industries offer, their managers are commercially-minded. That way of thinking is essential in the hospitality business. KFC is proud to say that most of their associates are receiving extensive coaching and viable trainings efficient for marketing operations. Such training methods include excellent customer services, financial and time management, food preparation, safety and sanitation procedures, and quality control on stocks as well.
KFC is open to all interested folks who are highly-skilled in multitasking and can work in accordance to the visions of the company. Get the road of success now by being part of the amazing management team of KFC Restaurant across the globe.