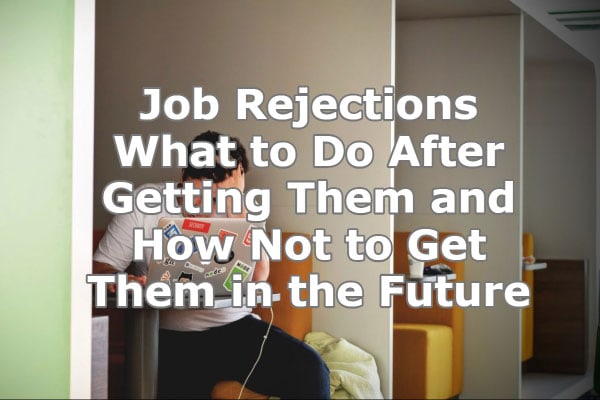 Got Rejected? Here's How You Can Deal With Job Rejections!
It's inevitable. No matter how much you prepare and be the best interviewee in the world, there are just some employers who will make you feel bad and give you a job rejection. When this happens, it's not a reason to feel bad and put yourself down. In fact, this experience should be enough to push you further. For sure, there's still a lot for you to experience. This is very true when you're fresh graduate.
Personally, I have received a number of rejections before I got hired. At the same time, I know a lot of individuals who experienced this too. So, don't worry. If you've been rejected, it's pretty normal. If you feel like crying or yelling, you can. Just remember, when you get a new job interview scheduled, you should wipe your tears away and think of this as another chance to prove yourself.
Just in case you're wondering, there are many reasons why you don't get hired. It doesn't necessarily have to do with what you say during the interview or how you looked then but because you're overqualified or you unconsciously gave some unreasonable conditions.
Actions You Can Take to Avoid Being Rejected by Employers
At the moment you received the big "NO", be polite. Say thank you and if you want, you can ask them for feedback. You could express to them that you're doing this for you to improve. Some employers would be happy to respond to your request and give you the information you need. When you're face with employers who give you the cold shoulder, don't be rude. Just be thankful that you've experienced this and move on to other opportunities.
(SEE ALSO: How not to manage job stress effectively)
Also, when this happens, all you have to do is review your application from the moment you entered the door to the time you left. Look back and see if you had made a mistake. You can also ask friends and family if they see something that you need to improve on. That way, you avoid errors on your next interview.
Opportunities come and go. When the next one arrives in your life, you should start anew and work your best to impress your employers-to-be. With all your hard work and effort, for sure, you'll eventually encounter the job that's for you. In summary, getting rejections from an employer is common but when you receive them, you're sure to become stronger and better!